Blueshield PmB Seals Supermarket Elevated Service Yards
Demand for space utilisation has changed the layout of many recent new-build supermarkets, and a new design concept maximises available space by incorporating an elevated service yard for heavy goods deliveries, with customer parking located beneath.
The design requires a watertight roof to the customer parking area, whilst providing a robust service yard area capable of taking frequent heavy goods deliveries.
Working with architects Hadfield Cawkwell Davidson and consulting engineers MJM, Pitchmastic PmB has provided its rapid-curing, spray-applied polyurethane membrane, Blueshield PmB, as the ideal solution to provide a fully integral, bonded waterproofing  system, applied to the elevated concrete slab.
British Board of Agrément-approved Blueshield PmB contains no fillers or additives and is VOC free. Once applied, it offers exceptional bond strength to all commonly used substrates, has excellent crack-bridging capability and a life expectancy in excess of 30 years.4
Blueshield PmB's superior adhesion and crack bridging properties were key to its specification, together with the advantage of a single-source solution, with installation by Pitchmastic's own highly trained workforce, giving the client a single point of responsibility for both materials manufacture and installation.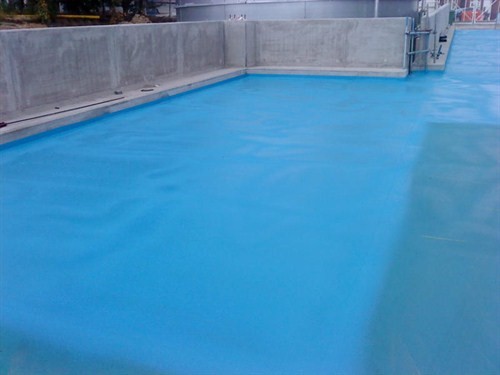 The Blueshield PmB system is installed with full Quality Assured procedures, including adhesion testing and electronic integrity testing, post installation. These system checks, together with over 30 years of successful installations worldwide, provide clients with confidence for the long-term performance of the waterproofing solution.
Pitchmastic PmB alongside specialist applicator USL StructureCare was then able to provide installation of sister company Pipeline& Drainage Systems  (PDS) Dri-deck sub-surface  drainage system. Fully compliant to BS EN 1433 HABA 26/94, the system is tied to the surface drainage and outlet system to ensure movement of any collecting
water. 
The client then applied a 150-mm concrete protection/wearing course to receive the proposed heavy goods traffic, Blueshield PmB's BBA Aggregate Indentation testing again proving reassurance of its suitability as the solution to the client's needs.