Crossrail Boxes Clever With Pitchmastic PmB
Pitchmastic PmB has installed its PmB spray-applied membrane to waterproof the new station box at Crossrail's Royal Arsenal Woolwich Station. Time was a critical factor for this prestigious contract, which had to be completed to provide a watertight area for the tunnel boring machines due to enter the box in the Spring of 2013.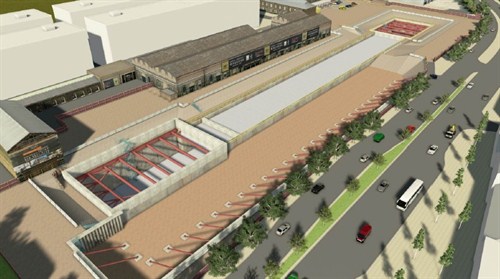 Royal Arsenal Woolwich Station has been constructed as part of the £17bn Crossrail project - the new high frequency railway linking Maidenhead and Heathrow in the west, through 21 km of new tunnels and stations under central London, with Shenfield and Abbey Wood in the east. The station has been privately funded by developer the Berkeley Group under an agreement with the Department for Transport, Transport for London, Crossrail Ltd and Greenwich Council, by which it will benefit from additional development opportunities in the area.
The Challenge
Pitchmastic PmB Ltd's spray-applied polyurethane membrane was chosen to provide the waterproofing solution. Its rapid installation and cure, supported by technically superior adhesion and crack bridging ability, provided the client with an easy decision when choosing its preferred installer. This was supported by the single-point responsibility provided appointing by a manufacturer-installer able to use its own BBA-accredited workforce to meet the client's needs in all areas.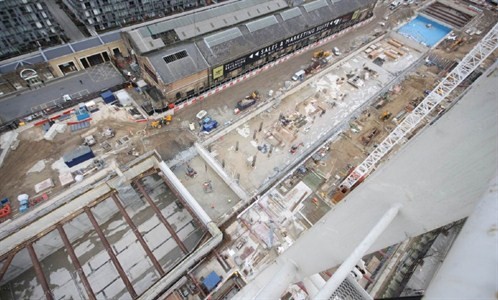 Pitchmastic PmB offered technically superior adhesion and crack bridging as well as quality assurance through ISO 9001 AND 14001 accreditation, in addition to BBA accreditation.
Delivery Ahead Of Schedule
The aim of Berkeley Group, through Byrne Bros, was to hand the Woolwich Box to Crossrail earlier than programmed: the use of Pitchmastic's PmB membrane proved critical in allowing this advantage to be successfully achieved.
For more information on our products call +44(0)113 8418861 or email info@pitchmasticpmb.co.uk