Hitch Free Installation At Hitchen
Pitchmastic PmB has supplied the waterproofing solution for Network Rail's new flyover at Hitchen, which prepares the East Coast Main Line for increased demand by opening up one of its main bottlenecks at Cambridge Junction, en route to London.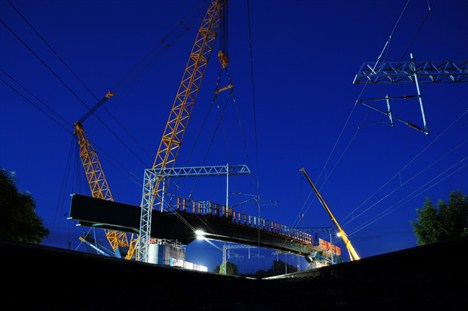 The Hitchen rail interchange project's elevated route features imported fill embankments and an 800-metre elevated section of rail comprising steel beams and a concrete deck and piers. The construction of the viaduct has been handled by main contractor Hochtief Construction UK.
Approved System
The PmB membrane was specified for the project thanks to its status as a Network Rail approved product. As well as meeting all Network Rail test standards, it also offers speed of application and curing confirming its suitability for application during winter months - an all important performance criteria in this instance. In addition Pitchmastic PmB met the need to accommodate large expansion joints that would have to allow a significant range of movement, namely our Type 5 Euroflex M260.
Flexible Solution
Restricted access meant that Pitchmastic PmB's plant, machinery and materials had to be lifted onto the structure by crane. 6000 m2 of the PmB waterproofing membrane was installed from September 2012 to March 2013, the company also supplied and installed concrete impregnation and anti-graffiti coatings on the columns. Installation took place during daytime working and had to be carefully coordinated with other trades to enable parapet works and ballast to be laid in sequence.
The system installed featured a protection layer placed between the waterproofing membrane and the ballast for additional damage resistance.
Pitchmastic PmB was able to fully meet the requirements of the main contractor in delivering the project on time.
For more information on our products call +44(0)113 8418861 or email info@pitchmasticpmb.co.uk