Pitchmastic PmB Pass Morrisons Challenge With Flying Colours
Pitchmastic PmB are delighted to have recently supplied their Deckprotect+ Blueshield system to approved contractor USL StructureCare, for a 4000sqm upper deck car park waterproofing project in North London.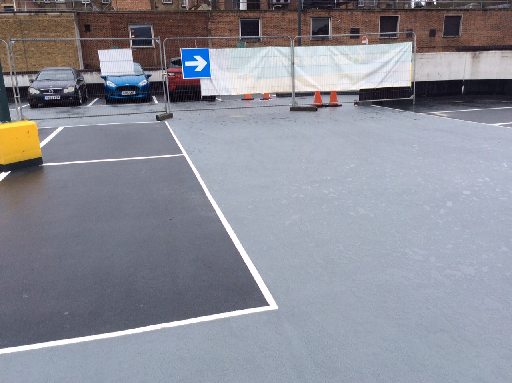 The Deckprotect+ Blueshield system provides an unrivalled level of protection to multi-storey car park upper decks due to its exceptional crack bridging ability. This particular project, at the Morrisons store in Holloway proved a particular challenge due to the differential movement between the car park frame and the precast concrete deck. The Deckprotect+ Blueshield system, which incorporates a waterproof membrane that cures in only 30 seconds, will protect the car park against further water and salt ingress for many years to come.
Prior to the works commencing, Pitchmastic PmB's technical team provided a bespoke specification including details for the various unique interfaces found on the car park upper deck.
Andrew Hedge - Technical Manager at Pitchmastic PmB commented 'we are delighted that USL have chosen to use our Deckprotect+ Blueshield system at Holloway. Whilst the Holloway car park provided a unique set of challenges, we have no doubt that it will protect the car park upper deck for many years to come, as our Blueshield membrane has been used successfully for over 40 years'.
Over 100,000sqm of Pitchmastic's Deckprotect+ Blueshield has been installed to multi-storey car parks in the UK in 2015, with this volume expected to increase in 2016.
For more information please contact marketing@usluk.com.