Deck Coating Works Well Underway In Redhill
Work is underway to give the Belfry Shopping Centre car park in Redhill a £2million facelift over the next six months, and Pitchmastic PmB's DeckProtect+ is being applied to all parking decks by USL StructureCare.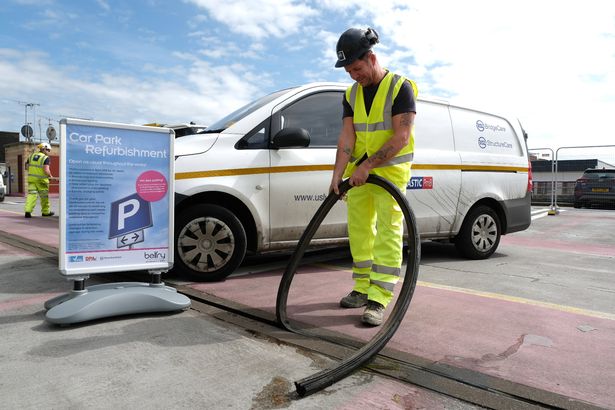 The complete refurbishment will include re-surfacing of the entire car park following the removal of the previous coatings, decoration throughout of all ceilings, walls and columns, replacement of all joints, LED lighting and new parking bays.
There will also be some enhancements to improve movement around the car park. The project will also increase the number of wider parking bays for disabled and 'parent and child' users. Electric vehicle charging points will also be introduced.
While there will be no dramatic structural change, the work is the most significant refurbishment in 26 years and the first full refurbishment in 17 years. It will see around 30 spaces removed to make parking less cramped in the remaining 750 bays.
Prior to the works commencing, the Project Team spent considerable time weighing up their options in terms of suitable products to improve the car park, and DeckProtect+ was ultimately chosen to protect and waterproof all the parking decks.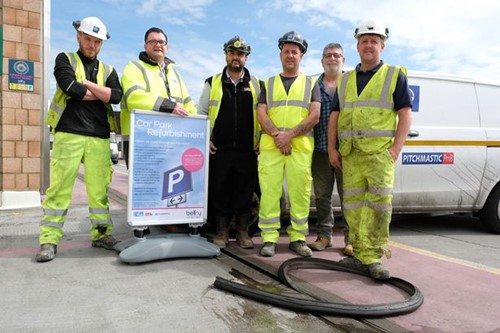 Head of Manufacturing Andrew Hedge commented 'the choice to use DeckProtect+ in the Belfry Car Park was solely down to the Project Team and their advisors, but we would like to think that the hybrid combination of durability, ease of clean and low odour in a 'live' car park would have been significant contributory factors. The virtually zero odour benefit is particularly important when working in a live car park in close proximity to the public, but also when working directly above a shopping centre, as the strong odours given off by some non-hybrid coatings are often denser than air and can, without proper management, find their way into stairwells and retail space'.
Following the removal of the previous coating, isolated repairs will be carried out to decks, including the provision of new expansion joints. DeckProtect+ Blueshield and DeckProtect+ Rapidflex will then be installed to all parking decks in contrasting colours.