Deck Protect+ 'Raises The Bar' At Princes Square Car Park
Princes Square Car Park in Bracknell provides 568 parking spaces over eight split levels, and forms part of the new Lexicon Development in the centre of town.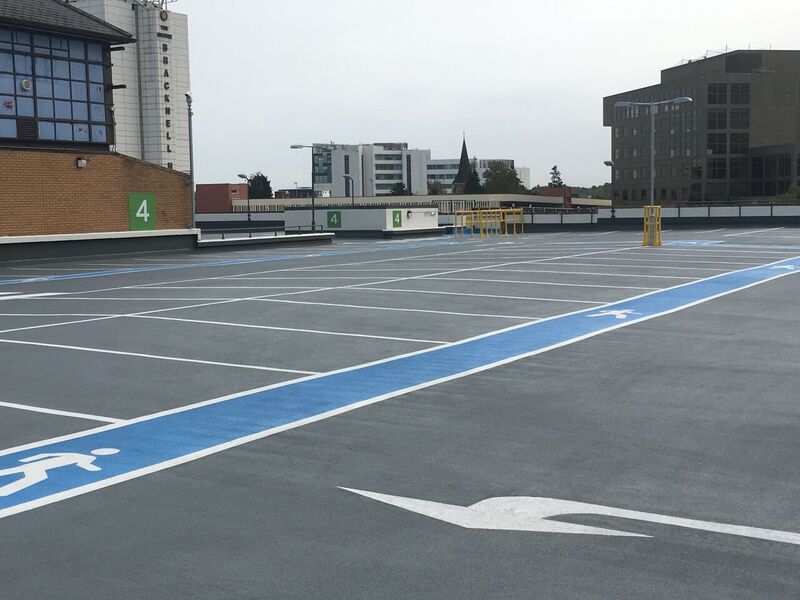 Following a competitive and fast-track two-stage tender process, Pitchmastic PmB's DeckProtect+ was selected to protect and waterproof all of the parking levels, including the mastic asphalt upper decks and lowermost over-occupied decks.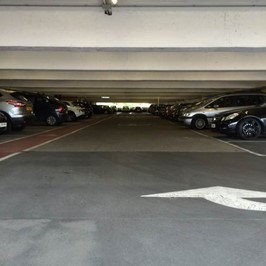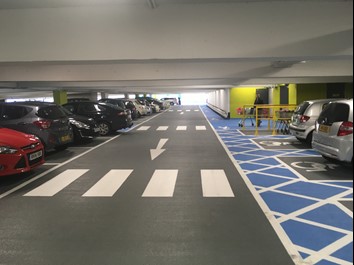 Pre & Post refurbishment works

Commenting on the choice of DeckProtect+, the Project Manager said 'the DeckProtect+ range by Pitchmastic provides optimum versatility in terms of combining numerous different technologies. We felt that using an MMA based product would potentially pose problems by unnecessarily introducing unpleasant odours into the 'live car park'. We also recognised that the end client wanted a refurbished car park that would require minimal on-going maintenance and be easier to clean. DeckProtect+ is the easiest to clean deck coating on the market, so the choice was an easy one'.

Following the removal of the existing coatings from the upper decks, the mastic asphalt was repaired, prepared and then overlaid with the DeckProtect+ Blueshield system, a highly flexible and crack bridging waterproof coating compliant with EN 1062-7 4.2 crack bridging to -20 degrees C. The system was applied in contrasting colours including blue walkways.


On the internal levels, concrete repairs were carried out using sister company Nufins repair materials, after which 12,000m² of the DeckProtect+ Rapidflex systems was installed to all areas. Rapidflex also provides a fast cure and durable deck coating for internal parking decks, and also uses Pitchmastic polyaspartic technology, making the system much easier to clean than other systems on the market.


Head of Manufacturing Andrew Hedge said 'DeckProtect+ has been selected for another prestigious car park refurbishment project, and once again, the system has been chosen based on its unique combination of properties. No other manufacturer is able to offer a robust, durable & highly flexible deck coating, combining ease of clean and low odour installation'. We accept that DeckProtect+ is not the cheapest system on the market, but in terms of installation cost, on-going maintenance and cleaning and ultimately whole life costs, we firmly believe we have 'raised the bar'.